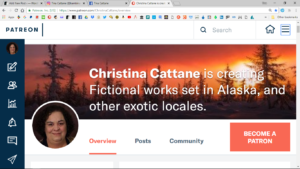 I am writing serial fiction on Patreon
Serial fiction has been around for a long time, and some of the greatest writers of the twentieth century wrote their masterpieces as serial episodes in magazines or newspapers. Charles Dickens stories 'A Christmas Carol', 'Great Expectations', and 'A Tale of Two Cities' are some examples.
Since I am constantly doing writing exercises from random writing prompts, I end up with a large variety stories. One prompt was a picture of two boys with model airplanes. I didn't care for the prompt but I did the exercise anyway. What came from that exercise surprised me, an idea about a boy who is kidnapped, a crime drama. I've never written a crime drama before, but I love to read them watch them on TV. The story that began with that exercise has turned into a serial story, with a new episode released every two weeks. I haven't decided on a title yet so I'm simply calling it "A Kidnapping Story'.
I love to write about dogs of the north
Another serial story I'm working on came from my love for dogs of the north. Not only because I grew up in Alaska, but some of my favorite books are Jack London's 'Call of the Wild' and 'White fang'. I also loved a book called 'Kavik the Wolf Dog' by Walt Morey that I read as a girl. So I've decided I wanted to write Chugiaks story. Chugiak is the dog of the main character in my novel, 'Lost in the Land of the Midnight Sun'. I am really excited to be doing these two projects and am offering them on my Patreon page along with other random writing exercises and maybe even some poetry.
If you'd like to read some of these stories, go checkout my Patreon page.
To receive FREE weekly installments of 'Chugiak' just join my mailing list and they'll be automatically sent to you.